Our Business
Panasonic Homes runs a wide range of businesses, ranging from subdivision to urban development, renovation and asset utilization, based on our technology and know-how accumulated through building detached houses.
As a housing builder under Panasonic, we help our customers' dreams to come true for their life-long satisfaction. As a comprehensive housing life creator, we also offer new lifestyle value to our customers.
Contract Detached House Business
We make full use of our unique structure and design proposals and advanced environmental performance to develop single-story to nine-story houses. Panasonic's advanced technology can maintain good control of energy for an entire house. We propose a living space that suits your family lifestyle and various services, including a long-term warranty, thereby providing you with a house where you can lead a comfortable life for a long time.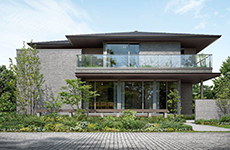 Subdivision Business
We run the subdivision business nationwide, building individual houses and offering an eco-friendly and comfortable life to an entire town, thereby reducing CO2 emissions to protect the environment. Taking advantage of our know-how cultivated through the development of smart cities to achieve a smart lifestyle throughout an entire city, and through building detached houses, we offer our subdivision condominium brand Parknade and propose land planning to create a green and fun-filled environment, thereby promoting comprehensive urban development.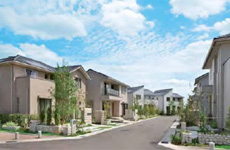 Renovation Business
Renovation
We offer optimized renovation by use of our exquisite proposal and reliable technology. We handle a variety of renovation, ranging from skeleton renovation by rearranging the layouts of wooden houses, old folk houses and condominiums to match family lifestyles, to the adoption of energy saving equipment unique to Panasonic, and interior renovation. We have an aftermarket warranty system and a support service to maintain the value of houses, allowing customers to rest assured regarding their renovation.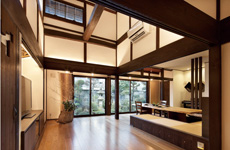 Exterior Building & Landscaping
We holistically coordinate entire premises by exterior building and landscaping as well as house building. We propose garden and exterior designs in harmony with housing and the townscape, and develop, construct and maintain them to retain their appearance.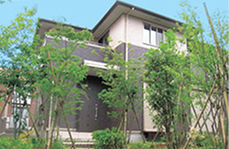 Asset Utilization Business
Rented Housing
We accurately follow the development of the rental market and the needs of occupants, thereby proposing rental houses that can meet various needs. With comfortable spaces, high-quality design and advanced environmental technology, we will add additional value to your rental real estate management. Our proposals in anticipation of the needs of the times will help you to increase your asset value and realize satisfaction from your life-long management.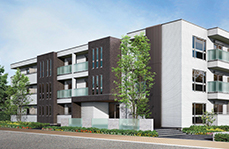 Medical Care & Nursing Care Business
We offer rental houses equipped with nursing care facilities for elderly people and the establishment of clinics, thereby providing living environments in which people can live with peace of mind. For rental houses equipped with nursing care facilities for elderly people, we prepare diverse business plans, including the complex type of day care and visiting care and the small-scale multiple-function type of home-based care that allows visiting and staying. Through our planning, design, construction and operational support for medical care and nursing care, we will contribute to local communities.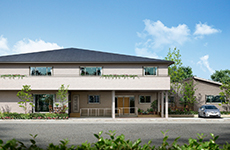 Real Estate Transaction and Management
When the purchase, replacement or sale of a house and land is needed due to a change in lifestyle or family structure, we will meet your needs with the wide information networks of the Panasonic Homes Group. Our abundant know-how and meticulous transactions will support the owners of rented houses in their business. In doing so, we offer various real estate services based on our house building experience and know-how.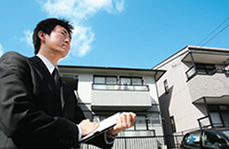 Overseas Business
We have accumulated the know-how to build eco-friendly and smart houses in Japan, and are now actively expanding our expertise overseas. In cooperation with Panasonic's overseas affiliated companies, we run operations in Taiwan and Malaysia. In line with regional climates, cultures and needs, we can provide houses that deliver high environmental performance and allow people to lead a comfortable and healthy life.