About Us
As the housing company of the Panasonic, Panasonic Homes Co., Ltd. is committed to providing quality from a long-term perspective, giving due consideration for the future of families and the environment.
Panasonic Homes was born of the strong sense of mission of Konosuke Matsushita -founder of the company known today as Panasonic Corporation - who sought to build quality houses befitting the vital role they play in people's lives. For many years since the establishment of our company in 1963, we have helped families across Japan bring their dream homes to life, by maintaining a firm grasp of what it is that truly makes a house a home.
Our desire to provide houses that people will call home for years to come is what fuels our commitment to excellence. Going forward, we will continue to help nurture happy, healthy families by offering houses that will be cared for and lived in for generations. Mindful always of the needs and expectations of our customers, we will further leverage the advanced technologies of the Panasonic, together with the exceptional design capabilities we have cultivated over the years, to ensure every home we help create delivers lasting value.
"良家"(A Good Home), a calligraphy by Konosuke Matsushita
"A home is a place where our heart is, a place where we build character, a place of importance as we live our lives. I would like to build wonderful homes that nurture our living."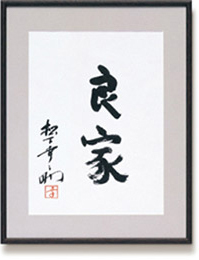 As a housing company in the Panasonic Group, Panasonic Homes Co, Ltd. conducts business activities based on the Code of Conduct of Panasonic Corporation.