Message from the President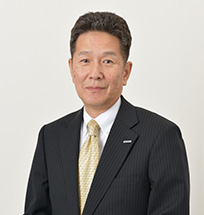 Homes are vitally important for human life. Panasonic Homes was founded in 1963 out of the strong sense of mission of founder Konosuke Matsushita to build homes befitting the vital role they play in people's lives. Since then, we have helped many families bring their dream homes to life, based on our clear vision of what truly makes a house a home.
In building homes, our utmost priority is to ensure unparalleled durability and ease of living. According to the principle of constructing robust structures that can protect residents' lives and the buildings themselves, we propose home designs that guarantee long-lasting safety and comfort, leveraging Panasonic's unrivalled design and technical expertise accumulated over the past century.
All of us at Panasonic Homes work together to present optimal plans customized for individual customers in order to thoroughly ensure their highest-level contentment and satisfaction throughout the home building process. We aim to become the top housing company in terms of customer satisfaction.
We will strive to accelerate the development of our custom-built housing business as our core business, as well as our urban development business, existing residential stock business relating to renovations and real estate transaction services, and overseas operations. By creating homes that can be passed down as valuable assets from generation to generation, Panasonic Homes will serve the betterment of both the culture of human living and the future of planet Earth.
In 2020, Panasonic Homes became a group company of Prime Life Technologies Corporation, which was newly founded by Panasonic Corporation and Toyota Motor Corporation with the aim of achieving future-oriented town development through the integration of lifestyle and technology. We hope to devote even greater efforts than before to the creation of new lifestyle value for the entire community through home and town building.
I look forward to your continued cooperation and support for our company.


Representative Director, President